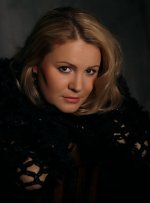 Soprano, Latvia
Jūlija Vasiļjeva (1986)
Jūlija Vasiļjeva received her Bachelor's Degree (class of prof. Anita Garanča) and Master's Degree (class of prof. Lilija Greidāne) from Jāzeps Vītols Latvian Academy of Music. She improved her vocal skills in masterclasses of such teachers as Edda Moser (Germany), Renato Bruson (Italy), Axel Everaert (The Netherlands), Ellison Pearce (Great Britain) and Inga Kalna (Latvia/Germany).
She has participated in productions of the JVLMA Opera Studio Figaro, performing the role of Susanna in Mozart's Le nozze di Figaro, Nightingale in Stravinsky's Nightingale at the Latvian National Opera with the participation of the JVLMA Symphonic Orchestra and Choir, as well as the role of Mirdza in Mediņš' Vaidelote. In 2009 she participated in the International Sigulda Opera Music Festival. In 2012 she won the Grand Prix at the Rising Stars competition organized by Mikhail Kazinik, and was invited to the summer festival Sabbionetta in Italy by Opernagentur Tennigkeit. In the season of 2012/2013 Jūlija was a student of the Latvian National Opera Academy, supported by Ināra and Boris Teterev Foundation.
In 2013 Jūlija had her debut performance at the LNO, performing the role of Donna Anna in Mozart's Don Giovanni (production of A. Žagars). Currently Jūlija participates in the repertoire productions of Le nozze di Figaro (Susanna) and Rigoletto (Gilda), as well as in the new production of Puccini's Gianni Schicchi (Nella). Jūlija also participates in new year's concerts and Latvian chamber music concerts, organized by the LNO, as well as in operetta programmes.