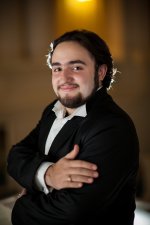 Tenor, Armenia
Tigran Ohanyan (1994)
Tigran Ohanyan acquired his Bachelor's Degree in Vocal Arts from Komitas State Conservatory of Yerevan after studies with professor Rafael Hakobyants. Currently he studies there on a postgraduate level with professor Susanna Martirosyan.
Tigran has successfully participated in several national and international competitions. In 2007 he received the 1st prize in Alexander Spendiaryan 2nd Young Musician's National Competition (Yerevan). On the same year he won the 1st prize in the Revival International Competition (Gyumri). In 2010 he won the Special Prize in the 6th Open Youth Delphic Games (Yerevan) and won the title of the Best Young Singer of the Year. In 2012 he received the Bronze Medal in the 7th Open Youth Delphic Games (Astana) and a Special Prize, as well as a Diploma in the 6th International Competition of Opera Singers "SAINT-PETERSBURG".
He has performed in Russia and Germany, and participated in the Young Artists' Vocal Academy at the Huston Grand Opera (USA) in 2014.
He made his opera debut as Count Almaviva in Rossini's Il Barbiere di Siviglia at the Opera Studio of Komitas State Conservatory of Yerevan in April 2015.
Tigran Ohanyan has participated in masterclasses of numerous renowned singers, including the masterclass of Montserrat Caballé in Yerevan and Diane Zola in Saint Petersburg in 2013.