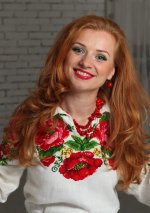 Soprano, Ukraine
Ivanna Komarevych (1984)
After studies at the Rivne Music School Ivanna continued her musical studies at the Mykola Lysenko Lviv National Music Academy in the class of professor V. Ignatenko and L. Bogko. She graduated from the Academy in 2012.
In 2013 she participated in the First European Academy of Vocal Art at the Silesian State Opera in Bytom, Poland.
Ivanna participated in the 2nd International Youth Festival of Chamber and Vocal Music Gold Rose 2005 and won the Prize of the Best Vocalist. In 2009 she won the Grand Prix in the competition The 21st Century Art in Kiev. Ivanna is the recipient of the Diploma of the IV S. Krushelnitska International Competition (2009), 2nd prize winner of the 17th Imricha Godina`s international competition of singers Iuventus Canti in Slovakia, (2015).  She has performed at various festivals ‒ Menhir in Falera in Switzerland; the VIII Early Music Festival Lviv and Habsburg's Musical Heritage in Ukraine, 10th festival Beethoven Tage in Kufstein (Austria), 20th Krystyna Jamroz's International Music Festival in Busko Zdroj (Poland, 2014) and in others.
In 2009 Ivanna made her debut at the Lviv National Opera and Ballet Theatre performing the role of Oksana in Lyudkevych's Dovbush. In 2014 she sang Mimi in Puccini's La Boheme at the Silesian State Opera.
Ivanna is currently is a lecturer with the Kremenets University of Humanities and Pedagogical Science.