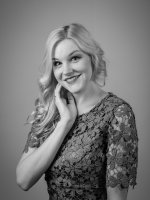 Soprano, Lithuania
Ieva Goleckyte (1991)
Ieva Goleckytė is a in the 1st year of her Master's studies in the class of professor Sabina Martinaitytė and associate professor Audronė Eitmanavičiūtė at Vytautas Magnus University Music Academy (Kaunas).  Since 2014, Ieva has been a soloist with the Kaunas State Musical Theatre.
From the very first years of her studies she has had numerous recitals in Lithuania as well as abroad: in Finland, Poland, Portugal, Italy and Russia. She has performed in various festivals and with a number of professional orchestras of Lithuania, the Brest Philharmonic Orchestra and the State Academic National Orchestra of Russia.
Goleckytė has prepared the following roles: Valentina in Wildhorn's musical The Count of Monte Cristo, Daisy Parker in Abraham's operetta Ball at the Savoy, Violin Key in Jasenka's Opera in Stripes, Monika in Kuprevičius' musical Fire Hunt with beaters, etc.
Ieva Goleckytė has perfected her mastery at a number of masterclasses and participated in various competitions in Lithuania, Finland, Portugal, Italy, Russia and Poland where she has won a number of first prizes and Grand Prix.
Ieva was honoured with Special Acknowledgment "For concert activities in promoting Lithuania" (2011, 2012, 2014, 2015) from the President of the Republic of Lithuania Dalia Grybauskaite, the Award of Kaunas Women's Club Ad Astra "For achievements in international competitions", The Acknowledgements of Kaunas City Municipality "For winning the contest and for active participation in the cultural life of the city of Kaunas".