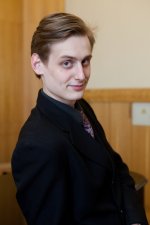 Baritone, Lithuania
Žygmantas Galinis (1990)
Žygimantas began his studies in 2009 at the Lithuanian Academy of Music and Theatre in the class of professor Sabina Martinaityte. In 2010 he won the 2nd prize at International Singing Competition in Finland. Since 2011, he has studied with professor Vladimir Prudnikov.
In 2012 he made his debut at the Kaunas State Musical Theatre performing the roles in Siegfried Werner Cabaret and The Count of Monte Cristo. He won the 3rd prize in International Competition Romansiada in Lithuania.
In 2013 and 2014, he participated in Birštonas Summer Academy of Arts and organised solo recitals at the Multicultural Centre of Kedainiai. He performed in the concert series marking Vladimir Prudnikov's 65th anniversary in Vilnius, Kaunas and Jurbarkas where he sang Don Giovanni in the concert performance of the opera Don Giovanni with the National Wind Orchestra Trimitas.
Žygmantas has participated in the master-classes of such experienced vocal tutors as Bogdan Makal (Poland), Oleg Melnikov (Belorussia), Bernhard Epstein (Germany, Stuttgart), Raminta Lampsaitis (Germany, Hamburg), Eiddwen Harrhy (London), Violeta Urmana (Lithuania), etc.
Žygmantas is currently in the 1st year of Master's studies at the Lithuanian Academy of Music and Theatre.