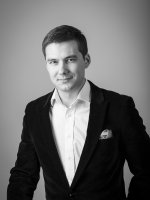 Baritone, Lithuania
Andrejus Apšega (1988)
Andrejus received the Master's degree from the Vytautas Magnus University Music Academy in 2013, where he studied in the class of S. Martinaitīte. He has participated in a number of international competitions in Lithuania, Estonia, Finland, Poland (Adam Didur International Opera Singers' Competition, Andrzej Hiolski International Singing Competition), Czech Republic (Jakub Pustina's International Vocal Competition), Slovakia (Iuventus Canti), Italy, Ukraine, Russia (Andrey Petrov's International Students Vocal Contest-Festival The Singing Mask, International Contest of Young Singers of the Russian Romance Romansiada) and in Portugal. He has given recitals in Lithuania, and abroad: in Hamburg, St Petersburg, Moscow, Warsaw, Krakow, Wroclaw, Katowice, Gorlice, Kharkov (Ukraine), Pastovi (Belorussia).  He has participated in the Lithuanian TV Project Arc de Triomphe. Andrejus has performed with the Russian State Academic Symphony Orchestra.
His repertoire includes such roles as Don Alfonso in Mozart's Cosi fan  Tutte, Tobias Mill in Rossini's La Cambiale di matrimonio, Rombaldo Fernandez in Puccini's La Rondine, Betto in Puccini's Gianni Schicchi, Albero in Wilhorn's musical The Count of Monte Cristo, Homonay in Strauss' operetta Der Zigeunerbaron and Falke in Strauss' operetta Die Fledermaus.
He has been honoured with certificates of appreciation from the President of the Republic of Lithuania Dalia Grybauskaite, from the Prime Minister and the Minister of Culture.
Currently he is a soloist with the Kaunas Musical Theatre and an Assistant Teacher with the Vocal Department of the Vytautas Magnus University Music Academy.